November 13, 2017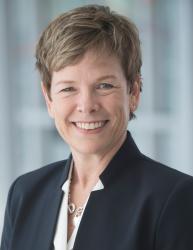 When did you know you wanted to become a pediatrician?
When I went to medical school, it was only to be a pediatrician. I had long known children were amazing, and I wanted to spend my life surrounded by them. And I adored partnering with the parents who loved them to help bring comfort. The worst part of medical school was suffering through all those adult rotations. Ugh. I don't know how those guys do it!
You were recently named Children's new CMO. What are you most excited to work on in this role?
The privilege that I have in this role is the chance to impact our culture – who we are, what we bring to work, and what we offer those we touch. These are terribly challenging times in medicine, but if we remember why we're here, and who we're here with, the calling will grab us all over again. If we see our potential, we will realize it. I'd like to help people see it.
What is one issue you're particularly passionate about and why?
Safety. Our job is to heal. We can't possibly heal a child who we can't keep safe – safe from health care associated conditions, from cognitive error, from inequity, from barriers to access. We've come a long way but, if we're honest with ourselves, we know we've got so far to go. This challenge has taught us volumes about humility and courage, and the power of collaboration. No one of us will solve this alone; this one can only be done together.
Why did you decide to join the board of the Minnesota AAP?
When you are busy in medicine, your view can become myopic. I joined the board of the Minnesota AAP to help me see beyond the walls of my own hospital. The energy and passion and commitment of these board members has been both humbling and inspiring. Once you look up and out, you just can't look away.
What is one thing people are most surprised to learn about you?
Most people don't realize that I didn't set out to be a doctor. I studied psychology in college and started off in medicine as a Child Life Specialist at Children's National in D.C. It was only in that role that I fell in love with the hospital and became curious about the science behind it all. Ultimately, I did all of my premed courses in the evenings and on weekends and went back to medical school about 5 years after I graduated from college. The combination of training in psychology, child development, and finally science, has made medicine so rich. I'm lucky that I didn't know what I wanted to be when I grew up.
How do you enjoy spending your free time?
These days, my free time is usually about taking care of me. When you're younger, you assume you are invincible. But life has a way of teaching you that it may not be the case. Now that I've learned that, I take better care of my heart and soul so that I can bring my best to those things that matter to me.
What advice has made a profound impact on your life?
Surprisingly, the best advice I got was from my commencement speaker at college. Neil Simon, a popular playwright, talked to us about passion. In his speech, he cautioned, "Don't listen to those who say it is not done that way. Maybe it isn't, but maybe you will." I have kept that with me ever since.