November 13, 2017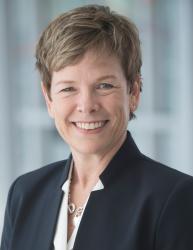 When did you know you wanted to become a pediatrician?
When I went to medical school, it was only to be a pediatrician. I had long known children were amazing, and I wanted to spend my life surrounded by them. And I adored partnering with the parents who loved them to help bring comfort. The worst part of medical school was suffering through all those adult rotations. Ugh. I don't know how those guys do it!
You were recently named Children's new CMO. What are you most excited to work on in this role?
The privilege that I have in this role is the chance to impact our culture – who we are, what we bring to work, and what we offer those we touch. These are terribly challenging times in medicine, but if we remember why we're here, and who we're here with, the calling will grab us all over again. If we see our potential, we will realize it. I'd like to help people see it.